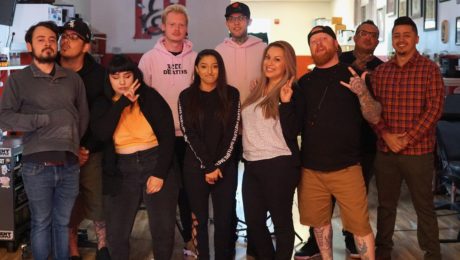 You walk through the doors of Love N Hate and look around and see it filled with objects, some things that you might expect to see at a tattoo shop and some not so much. Our walls are filled with artwork done by our artist or gifted to us. Statues, creepy things in jars, a framed rock surrounded by glass. Game consoles that haven't been played with for years, a dent in the ceiling.  To you these might seem like simple objects or artifacts, to us it's a reminder of how far we have come. Everything brings a memory whether a  joyous time, a struggle, disappointment, heart break, laughter everything has a story of our journey.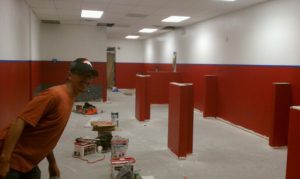 We opened up eight years ago with a dream, a dream to do what we love to do and that's art. With no one to guide us we opened our first business jumping through so many hoops and thinking that would be the hardest thing we would go through, boy were we wrong! The artist sat many days having nothing to do. Of course, if you know them you know they quickly came up with some ideas to make their days go by faster. Playing the new Madden and competing countless times to see who was the best at it. Let's not forget about the good old Nintendo 64 games we all loved growing up, these guys also managed to make a competition out of it. That dent in the ceiling, well that's how Gabe learned how to play golf. Buying a net and setting it up at the back of the shop and shooting golf balls into it. Putting also became a pastime, positioning different shots throughout the shop to show who had the best accuracy. The amount of free time they had was stressful but somehow, we would make enough money at the end of the month to pay the bills.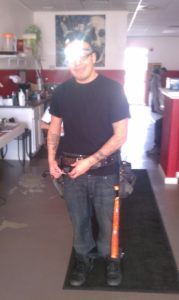 We witnessed businesses' around us come and go. Many of them wishing us the best of luck and gifting us good luck statues. Dealing with break ins a day before we were planning an event was hard and heart breaking. Even though this was discouraging, the guys held each other up and together moved past this unpleasant event. We knew then the importance of having a group that was more than just someone you worked with, we wanted people we seen as family.  Surrounding ourselves with people that truly cared has helped us grow and improve. Everyday these guys push one another to be the best and our success so far shows this.
Our team has grown throughout the years thanks to their hard work and dedication and of course our amazing and loyal customers. The game consoles no longer are played with and that net now sits in a garage collecting dust. We'll trade that any day with having our schedules filled with what we originally set out to do and that's to create phenomenal art pieces that costumers are proud to wear. We've had an incredible eight years here but we are ready for our next adventure. Thanks to everyone's support we will be announcing some exciting news soon. Stay tuned!