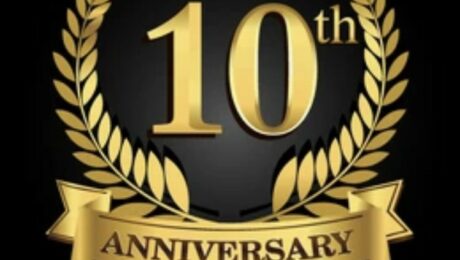 Ten years! It's incredible that it has been ten years that we have been in business. Has it been easy? Absolutely not! We look back and wonder how did we survive the first year? What has pushed us to be open this long? Heart, passion, desire to bring a dream to life. Having a strong partnership that believe in one another and never let the other give up no matter how difficult times become. We have learned so much along the way and continue to learn everyday.
We have to thank everyone that has been part of the studio, whether it was for a very short period of time or has stuck with us since the very beginning. Every single person that has entered has taught us a lesson. Good or bad, they were lessons that we will truly appreciate because it has helped us grow and become a better business. Countless moments we all shared together with laughter, tears, joy, frustrations, anger,  loss, have been memories that we will always cherish.
Our wonderful clients that have followed us on this journey as well, we cannot thank you enough. You have witnessed and been part of the incredible artistic growth our artists have had. They work and study their craft relentlessly to continue improving to put out the best work possible for all their clients. We appreciate you wearing our artists artwork with such pride and never hesitating to recommend our studio every opportunity you get. Lets not forget those clients that helped us stay a float during the pandemic, there are no words to express our gratitude.
We hope this journey continues for any more years to come. We look forward to making new memories and sharing old ones with everyone that comes into our studio. Happy 10 year anniversary!!!