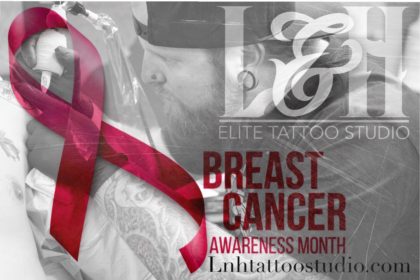 Next month is Breast Cancer Awareness month and Love N Hate would love to give back! Gabe lost his mother 15 years ago due to this terrible disease therefore this cause means a lot to him.  We are looking for ladies and gentlemen that have gone through a mastectomy and reconstruction and are looking to close that chapter in their lives. Whether you are looking to cover up the scars or have realistic nipples done, we would like to offer that service to you free of charge.
We will be having a full day of the artist giving back on Sunday October 7, 2018 at 10am, spots are limited. If you or anyone you know are looking to get in please contact us at 303-936-3353 or email us at scheduling@lnhtattoostudio.com or fill out the appointment request form red tab located at the top right corner of the page. Destiny will be going through everyone's submissions to schedule you in with the artist that best fits your ideas. Please help us spread the word and contact us immediately as spots are limited.
For the families and friends that would like to get something to support the cause, we haven't forgotten about you. We will have a couple of artist that will be offering small flash tattoos that day as well. These tattoos will be first come first serve for $30 each and all proceeds will go to a local charity. Thank you all and we look forward to helping out and hearing your story.