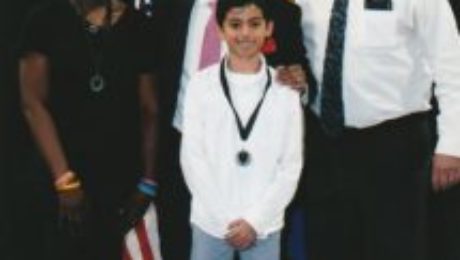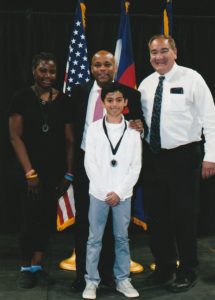 Giovonni (Gabe's son) was nominated by one of his teachers to get the wonderful opportunity to attend the National Youth Leadership Forum (NYLF): Explore STEM program this summer. He was selected based on his academic potential and interest in the areas of science, technology, engineering and math. This program will provide him with firsthand experiences in these fields. When he received his invitation in the mail he was filled with excitement to have the honor to be part of a great program.
Giovonni is a bright young man that devotes himself in maintaining excellent grades no matter how busy his schedule gets. He is involved in clubs like Mathletics, Chess, and Shakespeare and enjoys attending Chess tournaments every year. On top of brains, he's also athletic playing sports like Cross Country for his school and competitive soccer for Skyline Soccer Association.
As parents we try everything we can to give our children the best opportunities possible. When it comes to paying high fees for these programs, we think of different ways to come up with the money. From selling candy bars, having bake sales, shoveling snow to the very common raffles. Little did we know that raffles are not legal and are considered gambling. As many of you may have heard Gabe was trying to do just that, a raffle to try and raise money to send his son to this summer program. We were quickly shut down by the City saying they received a phone call from someone letting them know we were holding this raffle and they needed to shut it down. After an overwhelming support that we got from everyone and all the different suggestions on how to raise the money we've decided to change things up.
Gabe and the rest of the artist at Love N Hate have decided to donate their time and give back to help Giovonni and possibly other kids raise money to attend this program. Each artist will contribute either a full day session or a predrawing tattoo of their choice. This giveaway will have NO COST and donations will be greatly appreciated. If you would like to enter this giveaway go to our Facebook page for official rules. Entry will start Friday February 8th at noon and end February 10th at 6pm. If you are not interested in entering the giveaway but would like to donate, click here and it will direct you to our PayPal donation page.
We would like to thank everyone for all your support in this matter. Together we can help our future youth be the best they can and not let simple things like negativity or money stand in the way of their future.