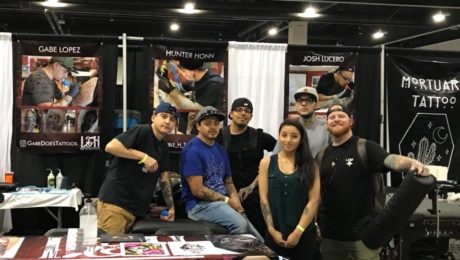 The artist at Love N Hate had a busy weekend at their first tattoo convention. Working along worldwide artists was not only an honor, but, a fun and entertaining experience.
Vendors showcased their best products – tattoo inks in an array of colors, newest machines, unique clothing and jewelry. Creative, artistic products and performances beyond imagination! Always a site to see is human suspension, with their ability to push their mind and bodies against unbearable pain. Not knowing what to expect at the convention, the artist from Love N Hate arrived open minded, taking it all in with amazement.
Tattoo contests were thrilling to enter! Competing against talent from all over the world was the ultimate test. Josh Lucero entered a black and grey photo realism Spiderman he created Friday, June 22nd. Forrest Henderson entered a traditional style of a bear skull, peonies with a stone tip wood arrow through the skull.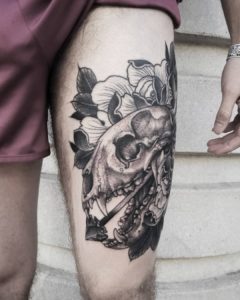 Josh was awarded 2nd place in black and grey tattoo of the day. Forrest won 3rd place for best traditional tattoo. We cannot express how proud Love N Hate is of their artists! Their backbreaking work and tedious attention to detail was rightfully rewarded and received with great excitement.
Love N Hate is especially appreciative of all the clients that came to the convention to be our artists' canvas! We understand that at times it may have felt uncomfortable with the vast amount of people observing art at work.
We are also grateful for our existing clients that attended the tattoo convention! Thank you for showing support and getting the opportunity to demonstrate your own pieces with others.
It was great to see potential new clients who loved that Love N Hate was a local tattoo shop. We hope to see many of those faces at the shop, and soon!
The entire team at Love N Hate worked hard to be part of this convention and as a result, it was completely worth it. Even when at times situations were overwhelming, the team remained committed and the outcome was superb.
This was the shop's first of many more conventions to come. We look forward to traveling for our next convention, so please, keep an eye out for a Love N Hate appearance at a tattoo convention nearest to your city!